20130929 UPDATE: S/V TRAVERSAY III

Saturday, 28 September 2013

Waiting ...

So why are we still here at King Cove?

Well for a start, every day since we arrived we have seen wind speeds over 40 knots, sometimes for hours on end. At times the screaming sound of the wind is confirmed by anemometer readings touching 55 knots! This is not good weather for sailing "outside".

One fisherman told me that the
weather doesn't affect them much. There are various restrictive time periods when, by regulation, fishing is allowed and they always go out. In contrast though, close observation and chats with various mariners yield that a number of fishing boats are waiting out the weather here before journeying on or heading for their fishing grounds.

So we are going to leave when the wind dies down, right? ... well not right away.

Earlier in the blog, leading up to Tuktoyaktuk, we described a problem in which any significant use of engine power led to water ingress around the propeller shaft. We found all four engine mounts to be compromised and eventually had them re-welded in Tuktoyaktuk. At that point, we believed the problem to be fixed but nonetheless have babied the engine a little bit ever since.




150 tonne boat lift (BLOGGER COMMENT: NOTE THIS PICTURE WAS TAKEN DURING THE "BAD WEATHER" PERIOD AND THE FISH BOAT WITH PLENTY OF WINDAGE HAS NOT "BLOWN OVER". DO THEY "BLOCK" COMMERCIAL BOATS BETTER THAN RECREATIONAL SAILBOATS?)

As we arrived at King Cove, the first place since Reykjavik with a proper boat lift, I decided to do some experimentation. I advanced the throttle up to a fast cruising setting and was greeted with a modest inrush of water around the shaft. Clearly the engine mounts were not the whole problem - OR their failure during a period of time had led to further damage.

At any rate, while we could live with the problem when no opportunity for repair existed - and when we were offshore sailing rather than motoring anyway - that was no longer the case. We would feel very silly having left a repair facility if the water ingress increased and we needed the engine for coastal navigation, anchoring and so on.

We now have parts on order which may take another week to arrive. In most harbors, we would then be able to lift the boat out and leave it in the yard while we work on it. The lift would then drive over and transport us back to the water. Here though, we need a calm day to haul the boat out of the water. It cannot be left out because the high winds here could topple it over. Thus it must remain in the lift while we install these underwater parts [prop shaft seal, underwater bearing etc] and will then be launched immediately after.

THEN [again if the weather suits] we will be able to get underway up the coast in our journey towards Victoria.

We know this is frustrating for those who await us and who follow the progress of our journey. It is frustrating for us too as the weather gets colder and the season advances ... but it is the safe thing to do.

We are waiting for furnace parts too. They wouldn't have incurred a delay [we're tough right!] but while waiting for the essential drive train parts, we thought we would put as much right as possible. And our failed refrigerator has already been fixed thanks to the tender ministrations of the refrigeration technicians at the seafood cannery.

Meanwhile, we see the ever changing light patterns on the high surrounding mountains as sunshine and squall alternate against the steady backdrop of swiftly moving cloud. This is a place of great beauty.

And the people who make this small town their home or workplace are an endless delight - both to meet and to learn from.
20130925 UPDATE:
Wednesday, 25 September 2013
The Journey Pauses!

Bob - a typical Alaskan

After the excitement of anchor watches, ice watches and worrying about whether our anchor windlass will survive another bout of heavy pulling - or whether our engine will start allowing water to pour in rather than just trickle in, it feels really restful to be tied to the dock here.

We're here waiting to fix Traversay that we can finish our trip towards Victoria.

Read the full TRAVERSAY III blog at: http://traversayiii.blogspot.com/
20130923 UPDATE: TRAVERSAY III makes it to a safe harbor - looks like KING COVE ALASKA.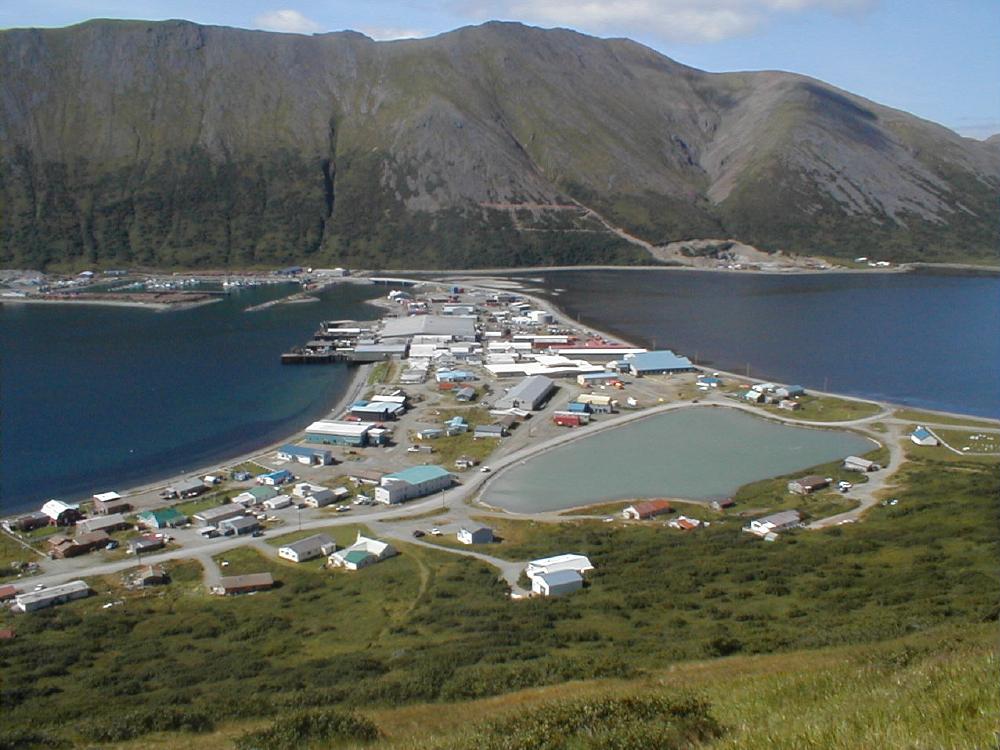 What does the weather look like for this area? OMG! GOOD TIMING JUST BEFORE THE STORM HITS!
Day after tomorrow's forecast? 25th of September.
20130922 UPDATE: TRAVERSAY III comments on their blog -

right on point!
You can read it below or click this link to the TRAVERSAY III blog. This skipper definitely has made good decisions thanks in part to outfitting his sailboat with Inmarsat Fleetbroadband satcom allowing excellent Internet access to the worldwide web and beyond. KUDOS... keep up the good work!
- - - snip - - -

Sunday, 22 September 2013

Unimak Pass

The weather forecast for the Unimak Pass section of the Aleutians was, we are told, typical for this time of year.

Later in the year, it gets worse

.

PKZ170-210300-
EASTERN ALEUTIANS CAPE SARICHEF TO NIKOLSKI
400 AM AKDT FRI SEP 20 2013



.STORM WARNING TONIGHT...


TODAY...S WIND 20 KT BECOMING SW 45 KT BY EARLY AFTERNOON. SEAS
10 FT

BUILDING TO 16 FT

LATE THIS AFTERNOON. PATCHY FOG. RAIN.
TONIGHT...

W WIND 50 KT

BECOMING NW 35 KT TOWARD MORNING.

SEAS 23 FT.


PATCHY FOG.
SAT...NW WIND 35 KT. SEAS 15 FT. PATCHY FOG.
SAT NIGHT...NW WIND 35 KT. SEAS 12 FT.
SUN...W WIND 20 KT. SEAS 8 FT.
MON...SW WIND 20 KT. SEAS 8 FT.
TUE...W WIND 20 KT. SEAS 12 FT.

Thus as we approached St. Paul Island,

we threw in a bit of a delay at anchor in order to let the worst pass

as Mary Anne said in the previous blog. The dreary morning of our arrival at St. Paul was followed by a brief treat as we left 10 hours later: the rain had diminished enough that we could see the shores were carpeted with fur seals! These animals used to be hunted here but now it is forbidden to even go ashore on the rookery beaches during the breeding season.

We had not seen such a spectacle since South Georgia

.



Our furnace has failed

. This is not the disaster in the "warmth" of the Aleutians that it would have been in the frigid chill of the high arctic .. and we can always run an inconvenient electric fan heater (but only when we don't have the 12 ft waves we're currently experiencing).

The failed part is only worth a few dollars. So why wasn't it aboard? Well it was!



After giving faithful service for years, the glow-pin igniter failed further north when it was REALLY cold. I replaced it with a spare and we were warm as toast in minutes. The new part failed, however, after a few more weeks of use.



So why don't we stop a while and just get things fixed?

We HAVE fixed many things on this trip from England either in port or with on-board spares and materials. This sort of voyage gives hard usage to the boat AND the people.

But non-essential repairs? Further north, a delay of days might mean stopping for a 9 to 11 month winter and not being able to live on the boat which is, after all, our home. As we emerge south of Unimak pass, it is finally possible to stop for repairs but because of the rapidly worsening autumn weather on the offshore North Pacific, such a delay will almost certainly prevent our timely arrival in Victoria via the offshore North Pacific. These realities of small boat sailing are so foreign to modern life that it is difficult for the uninitiated to understand how a few days stopped can mean as much as a one year delay.

As an aside, we met a Dutch sailor in Colonia, Uruguay whose one month delay for a mast repair cost him a year because he missed the "weather window" for a high latitude voyage he was planning.





As it is, the current forecasts indicate abysmal weather on the route to Juan de Fuca Strait. This starts a couple of days after our Unimak passage and extends for a week and beyond as a succession of weather systems move from the Aleutians out across the Gulf of Alaska. We only once in our New Zealand to Chile voyage saw such deep lows, strong winds and high waves - and in that storm Mary Anne was injured and our boat was damaged.



It is true that we left Washington State in November, 2004 into a wintry North Pacific. What is different? When southbound from these latitudes, you can deal with the close of a single weather system and perhaps the rapidly weakening southern reaches of another. In a few days, you are so far south that autumn and winter can't touch you. The forecasts stretch out that far with some reliability.

When eastbound, on the other hand, you do not escape this stormy stretch of ocean until almost two weeks later as you arrive in port.


So what now? At least here

there are options

. The coast can be sailed on the rare good days [and hidden in on the bad] at least as far as Prince William Sound. We might

winter at Kodiak

, get our boat back in the top shape she was in before leaving England, and set out again in the spring. Or, if on arrival in Kodiak a sufficient length of settled weather were available, we might set out on the [from there] much shorter

crossing to the inside passage and make our way south along that sheltered route

.



Oh, and yes, our weather southeast bound in the Bering Sea on Saturday was just as bad with waves just as high as that forecast predicted

.

-----
At 22/09/2013 22:53 (utc) our position was 54°23.04'N 164°50.33'W
I HOPE YOU HAVE LEARNED MORE FROM THIS EXCELLENT BLOG POSTING.
EITHER WAY - BE IT COASTWISE OR DEEP SEA DIRECT TO THE STRAITS OF JUAN DE FUCA WILL BE PLAGUED WITH PLENTY OF UNSETTLED WEATHER. I THINK THE MOST ENJOYABLE ROUTE WOULD BE ALONG THE COAST THEN THROUGH WHALE PASS TO THE CITY OF KODIAK, THEN IF A GOOD WEATHER WINDOW PRESENTS ITSELF YOU HAVE TWO OPTIONS - SHORT ROUTE TO SEWARD OR PRINCE WILLIAM SOUND ELSE DIRECT ACROSS TO CAPE SPENCER OR SITKA THEN ENJOY THE INSIDE PASSAGE SOUTH TO VICTORIA B.C., PUGET SOUND OR ASTORIA OREGON OR ON TO CALIFORNIA AS YOUR TASTES MAY BE.
20130921 UPDATE:
TRAVERSAY III position - SE of St. Paul Island heading towards Unimak Pass - watch out transiting through a 981mb STORM on about Sept. 24-26th which is likely to turn toward southern B.C. and re-impact your intended route.
Weather fax and forecast:
Zone Forecast:
Cape Sarichef to Nikoski (PKZ170)
21st Tonight:
NW wind 35 kt. Seas 12 ft.
22nd Sun:
W wind 25 kt. Seas 9 ft. Patchy fog.
Sun Night:
SW wind 20 kt. Seas 7 ft. Patchy fog. Rain.
Weather Surface Forecast valid for September 23rd - rapidly intensifying 967mb STORM.
20130920 UPDATE:
TRAVERSAY III has come to his senses and taken refuge at St. Paul to allow the gale storm to pass on before considering to continue.
"Friday, 20 September 2013


St. Paul Island

We anchored here at 0700 to allow a gale to pass by us, and also to position ourselves to exit the Bering Sea through Unimak Pass at the proper time to minimize issues with the currents. It's now 0830 and just beginning to show the grey light of dawn. The rain has not stopped, and the wind is making a low moaning sound … the season up here is definitely OVER and the North country is closing the door on us."
20130919 UPDATE:
What might be the proposed route by TAVERSAY III? I can only guess at the speeds made good. But here is an educated guess.
Where is TRAVERSAY III today? Checking their blog tracker.
What is the next 24 hour surface weather forecast? (September 20th) Looks like a 990mb low weather system.
What is the 48 hour surface weather forecast?
(September 21th) A 968mb low is going to be one mean storm and transiting Unimak Pass will make it especially mean with tide and currents stacking the seas. OUCH!!!
What are the sea conditions forecast for September 21st? 5-7meters with 45kt winds. Not very comfortable nor desirable to say the least. This is what is referred to as a butt kicking lesson. Add seas stacking up against Unimak Pass tides and currents and you could see not only a kicking but a real lashing to a small yacht and crew. WHY? BECAUSE YOU SAVED A FEW SATCOM AIRTIME DOLLARS BY NOT CHECKING WEATHER? SHAME ON YOU!
What is the 96 hours surface weather forecast?
(September 23rd)
I see multiple low pressure weather systems with Storms and Gales indicated that you would need a super computer else the luck of the Irish to find a good weather window - just stay in port until a good weather window becomes obvious to run to your next port of call.
20130918 UPDATE: The 977mb low is turning back towards Russia...will this be enough "luck" to clear the route? Not likely! Where is the 990mb sneaker low going to enter the game? This could be the KO punch.
20130918 UPDATE: SURFACE FORECAST FOR 20130920
S/V TRAVERSAY III departed Nome on 20130916 and is at the currently position as represented in this GPS tracker graphic below.
Here is the forecast weather on 20130921 - why would a responsible mariner depart Nome to meet a deep 969mb low STORM?
Here is the results when another NW Passage mariner thought he could handle a Bering Sea low pressure STORM. So sorry!!!
The only hope I can see is that the storm moves fast to the east and TRAVERSAY III slows down so it does not "catch up" with it. Rolling the dice... I'd say so... I cannot imagine a need to take this risk after an exhausting month underway crossing the Arctic... repairing broken engine mounts... undoubtedly there is other equipment including rigging on this aging yacht that under storm loads and stress are likely to fail.
I think this is a good example of a skipper making a poor decision.
Look at the weather chart again... do you see the fast approaching tropical cyclone system? OMG!