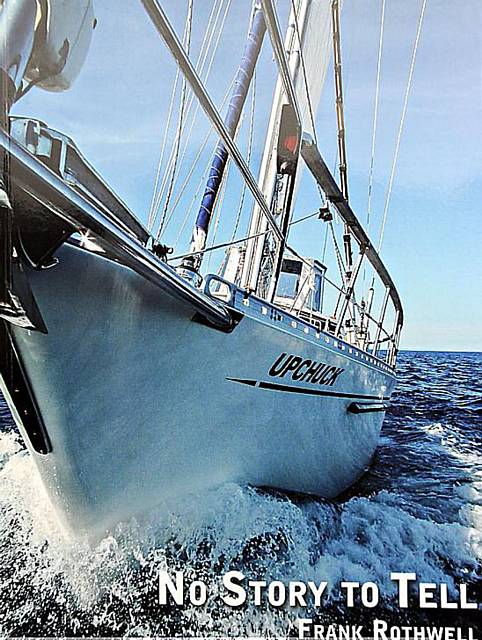 "NO Story to Tell" . . . Frank Rothwell's book recounts his voyage
© Chronicle Online
INTREPID explorer Frank Rothwell has written a book about his Arctic Ocean adventure.

The Hollinwood businessman's "No Story To Tell" documents his 20,000-mile trip through the North-West Passage on a 50ft yacht, named UPCHUCK.

The thrill-seeking 62 year old completed his challenge despite a battle with kidney stones and discovering he had prostate cancer.

Frank set off four years ago intending to finish in under a year. But delays meant his voyage was concluded last summer — a feat fewer than 200 small boats have ever managed.

Along the way he saw the Northern Lights, icebergs the size of Wembley Stadium, whales, sharks, dolphins and polar bears.

"No Story to Tell" (£20) is available from the Chronicle office.
http://www.oldham-chronicle.co.uk/news-features/8/news-headlines/80804/frank-recalls-epic-voyage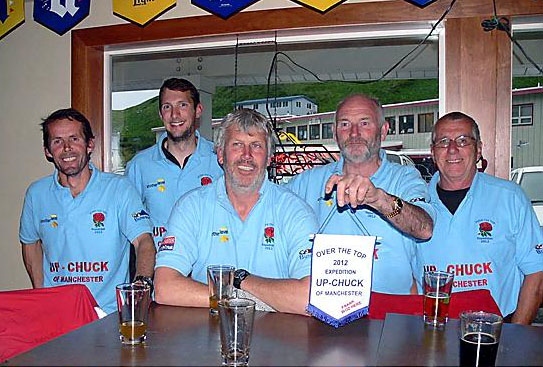 CREW mates . . . Frank (second from right) with his sailing team

© Chronicle Online

THE REST OF THE FRANK ROTHWELL STORY... to follow...
SV UPCHUCK

Who would name their yacht "UPCHUCK"? (To vomit or experience vomiting or is it a body of water up north?) I think it tells volumes about what is ahead.... jokers?... play-on-words... yachtmasters? lol
Frank Rothwell - owner of the good ship "UpChuck" is sailing the North West Passage with his crew of: Derek Donoghue, Huw Fernie, Ian Hunting and Robin Toozs-Hobson. UpChuck is a Nauticat 515 - a 50' yacht purchased specifically for this trip. Frank has been planning this trip since 2006.
http://northwestpassage2012.blogspot.com/2012/07/frank-rothwells-mussings-about-going.html
Alaska Peninsula from S/V UPCHUCK
Frank Rothwell left school at 15 and founded Manchester Cabins at age 29.

Legend has it that in the Spring of 1979 Frank Rothwell built his first cabin, after a full days graft, on the drive of his family home. He sold it after a single advert in the classifieds of the Oldham Evening Chronicle. Following this success, he built another one and also sold it after one night in the classifieds. Unsurprisingly, the neighbours complained to the council because of the enthusiastic hammering, but Frank now had the belief that he could make a success of manufacturing cabins.

While called "Frank Rothwell Plant Hire" Frank rented a garage near Fielding Mill , Radclyffe Street, Middleton, Manchester UK to manufacture Cabins. 5th April 1979 Frank employed David Proctor who has had uninterrupted service to this day.

1984 proved to be a significant year. Frank Rothwell Plant Hire was renamed Manchester Cabins and the first commercial property was purchased: 688 Oldham Road, Miles Platting, Manchester UK. Manchester Cabins quickly expanded into adjacent properties, formally Louis Edwards Meat Factory. With this acquisition came the current Boardroom table where it is believed that Louis Edwards signed George Best for Manchester United. Also the 1st hire cabin entered into the Hire Fleet and the 1st Wagon Mounted Hiab Crane was purchased.

After 40 years of continuous work Frank decided to take time out for sailing his own yacht around the world. While away he read a report in the Daily Mail (March 4th 2003) about a heart operation which was cancelled at a Cardiff Hospital because the surgeon became too stressed to work after he could not find a car parking space. During his circumnavigation he came up with the modular platform concept as a solution to the car parking problem.

On his return he set forth with the research, evaluation and design of a prefabricated modular car park structure.

'Another Level Car Parks' is the latest business venture by Frank Rothwell to draw on over 25 years of experience in the manufacturing and hire industries. All the sister companies have the same business strategy to develop ground breaking products and then manufacture for our own hire fleet.

Since 1979 Frank Rothwell has passionately grown the businesses based on traditional values by treating customers, employees and suppliers how he likes to be treated. We are a wholly owned and expanding family business who prides ourselves in providing a safe, effective and efficient service with modern plant and equipment.

Bunkabin Ltd hires out site sleeping accommodation for the construction and event industries, nationwide. Bunkabins are portable bedrooms which are similar to berths on ferries with 2 single beds, shower, wash hand basin and toilet.

Manchester Cabins Ltd hires out portable site offices, canteens, toilets and storage containers in the Greater Manchester Area.

As our guide to the specification we chose to use the "Design recommendations for multi-storey and underground car parks" 3rd Edition from The Institution of Structural Engineers.

The structure had to be safe for its users and over engineered to accommodate overloading and misuse.

The structure had to be simple, easy and quick to assemble. It had to be easily adapted to suit the size, gradients and conditions of individual sites.

The modules had to lock together and fit on standard articulated trailers without being classified as an abnormal load.

It took 4 years to have 4 patents granted for our "Modular Platform".

By summer 2008 we had completed 23 'Another Level Car Park Structures'.

Frank Rothwell was diagnosed with cancer several years ago and had to put everything on hold and attend to his medical treatment which today has been successful - he is cancer free. To celebrate life Frank decided to go where he had dreamed of going - the Arctic - so he returned to the good ship UPCHUCK to sail the North West Passage with his new crew of: Derek Donoghue, Huw Fernie, Ian Hunting and Robin Toozs-Hobson. UpChuck is a Nauticat 515 - a 50' yacht built specifically for this trip. Frank has been planning this trip since 2006.

Back at home, Frank is a school governor, and chairman of Oldham Gateway. Frank's passion to achieve overflows into his hobbies, skippering a circumnavigation on his yacht - for starters it will be a homebound passage from Seattle through the fabled Arctic Northwest Passage to Scotland.
Frank's going over the top. Episode one.
30th June. At Sea.
In 2005 I met a bloke in a pub who sowed the seed of me sailing the North West passage ( NWP ) in a Yacht.
I liked the Idea of the NWP because it is a major expedition that I have the sailing experience and ability to take on without a guide.
There have only been 150 transits to date and that includes Icebreakers. In 2007 I bought the Specially strengthened Nauticat 515 yacht and named it Upchuck, after Judith.
We left the UK in September 2008 and it has taken 4 years to get back on our way proper. We left Seattle on the Pacific Coast of America for Dutch Harbour in Alaska on 23rd June.
It is currently blowing a force 5 on the nose with a 2 meter swell. For the yachtie's reading this we are under power and still making over 6 knots.
The list of preparation jobs has been enormous. You need to be totally self sufficient because this is a 16 week expedition. We needed an endless list of spares and safety equipment to cope with every eventuality. We need to double up on everything. We have electronic SATNAV system which we have had to back up with about 100 paper charts in case of electronic failure. I have had to get loads of spares Including 2 spare propellers and diving gear. We have Sea Anchors, drogues, normal anchors, storm sails, survival suit, a big liferaft with an insulated bottom and a ton of food.
I carry 2500 litres of diesel which is good for over 2000 miles and I will have to fill up 3 times.
We need to buy a big gun for protection against the polar bears but the USA does not think we are worthy of granting us a gun licence. Yet The biggest challenge has been selecting crew. I have four ideal crew members who all bring the individual skills to the party taking pressure off me. They are British a nick nack and an Ozzi.
Some of the best candidates were women but the real skipper said, you are not having any women on my boat.
(women always send a Photo taken on their holiday with their application.)
The passage from Seattle to Dutch Harbour is about 1500 miles and should take about 10 days.
The Elbow room in Dutch Harbour is the second roughest bar in the USA, We plan to change that!!!!. Dutch Harbour is the place they record The worlds Deadliest Catch. This is a serial documentary on Sky about some rough crab fishermen who work in the Bering sea.
For those of you who have not been bored to death by me in the past the Northwest passage is the sea between the top of Alaska and Canada and the Artic Polar Ice Cap. It is frozen for 9 months of the year with over 6 feet of ice.
Have a great night
Frank.
Frank's going over the top. Episode Two.
The 1700 mile Pacific crossing From Seattle to Dutch Harbor was crap with either no winds or 20 knots on the nose and the sea temp went down to 12 degrees. We managed only 12 hours of sailing in 10 days the first was with the motor. Dutch Harbour is on the other side of the Alaskan Peninsula and we needed to sail through the fast running Akutan Pass. We had about 8 knots of tide to deal with which fortunately was running the same direction as we need to go. It was a wild ride. Wind over tide.
Dutch Harbor is a massive fish processing plant. These plants used to be factory ships but now they have moved on shore. We were delighted to see thousands of Crab pots on the shore. This meant that we are there out of the Crab season which reduces the risk of picking up the ropes on the propeller. All the fishing boats were trawling for Pollock.
The accumulator split on the water maker so a famous frank bodge was required. We Serviced the engine and Derek put steps up the mast.
The Wabesto heater packed up. I arranged for parts to meet us at Nome. Huw and I did a bodge on the SSB radio Ariel with advice from a local expert. It seems to have worked. A dirty great big Sea Eagle landed on the top of the mast and damaged the wind indicator. When I was fixing it and doing my normal mast check 50 feet up the mast I was dive bombed by the Sea Eagle, I shit myself, It was as big as a 13 year old kid.
There was massive disappointment when we found out the famous Elbow Room bar had closed 5 years ago and has been replaced with a very typical US style sports bar with food. (All fried food)
There is a serious shortage of women in Dutch Harbour and there is a sign at the airport which says "Ladies when you leave Dutch Harbor you are no longer a 10!" Because of the abundance of men there are women who come up here looking for Mr Right. There is a local saying, "The odds are good but the goods are odd! Before we left Seattle I fitted a new propeller so I knew that if I had to replace the prop under the ice the replacement would definitely fit. However the new Propeller made a serious humming noise like a tuning fork at 1200 to 2000 RPM. I asked advice from Kai at Nauticat who said it had singing propeller syndrome. This required me to dive down and file a sharp edge on the prop in a dirty shitty harbour smelling of fish. Well that's what it tasted like. My efforts reduced the noise enough. For 4 days we tried to get a Polar Bear gun and on the last day in a 20 minute spell I was offered 3 and one bloke wanted to sell me dynamite. I bought a magnum rifle with 20 exploding bullets off a bloke in a bar. On the box the bullets say they will kill an elephant. We tried it out at sea on an inflated poly bag with news papers and rags. It blew the poly bag to smithereens. This will defiantly do the job if our lives are threatened. Four days was enough in Dutch so it was time to fuel up at £1-05 per litre compared with £0-92 p in Seattle.
Now it is 700 miles north to Nome up the Bering Sea.
Speak to you from Nome.
Frank with a three week beard growth. Rugged.
Frank's waiting to go over the top. Episode Three.
Dutch Harbour to Nome is an ocean passage of 700 miles due north into the Bering Sea. The Bering Sea is very shallow between 10 and 20 metres deep in places which makes it rough when you have strong winds. (Just like the Irish and North seas). The farther north we go the shorter the nights get and we can now read in the open air in the middle of the night. One night winds increased to 30 knots on the nose as dirty great big rolling Cigar shaped cloud came over head what made it more exciting is it was red because the sun was low. The sea temperature has gone down to 6 degrees which makes it really cold and foggy. We have had to motor the whole passage.
Nome is a gold rush town from 1901. When in one year the population jumped up from 200 to 20,000. There is a programme on Discovery channel in the USA which is called "Bering Sea Gold" about a couple of blokes who are dredging for gold in the sea in the Bay of Nome. Last year there was 4 small dredgers and now this year there are 50 dredgers - all trying their luck. The town is now a boom town again. You cannot get a hire car or hotel room for love nor money. There are 6 bars in town and they are all full every night.
(So I hear from my good crew).
The people are very friendly. We have been invited for dinner on 3 nights to a local the home of a local family. Their daughter Anna has taken us out for rides into the wilderness for swimming in the warm springs, fishing in the rivers and looking at the old gold dredgers. Anna's father is Pat Haan, he is the local expert on sailing the NWP and he is always trying to discourage attempts because he used to be in charge of the local fire and rescue services. I was concerned he would give us an ear bashing but He has told me he would want to transit the NWP in my boat and has given us loads of advice he calls for a beer or a chat daily.
There are 3 yachts in Nome waiting to set off on the NWP but at the moment the Ice is still solid at Barrow point which is the most northerly point of the USA. There are strong southerly winds forecast which should push the warm water North and fracture and blow the ice north. The sea here is pretty warm at 14 degrees. Seems strange, you go farther North and the sea gets warmer. We are in touch with the Canadian weather and ice service who are offering us advice. I expect to head North on Sunday 22nd of July. We will have been in Nome for about 10 days. The boat is ready to go. Nearly everything is working ok.
We have fitted 2 big headlights so we can see the Ice bergs down the side of Greenland as the nights draw in.
We have fitted a thick rubber sheet to the front of the boat to reduce the impact when we hit ice.
I have ordered a remote control so the boat can be steered from the front or up the mast from the new crows nest seat. If you are high you can see the rogue ice. The water maker is working ok and the best news is the cabin heater is working now. Yipee.
There are 2 other yachts waiting in Nome for the ice to recede. A New Zealand family of 4 adults and a 65 year old couple from Denmark. Both other parties are well experienced but there yachts do not have the same fuel range as Upchuck.
Pat, Sue and Anna have a prime rib which they are cooking on Friday night for our farewell party. Sounds like a heavy night. (Not again!)
I Cannot wait now to get going North.
A real big thank you to Pat Hahn and family for your advice, guidance, re-assurance and hospitality.
Trailer, Episode 4 will be a bit more exciting with all of us pushing our boundaries of experience.
Love Frank
And now for the delay.... WEATHER! (Sea ice)
"BREAK UP" is usually the first week of July - this season it is late... all you can do is wait... unless you know how to hurry Mother Nature... lol
.SYNOPSIS FOR NORTHWEST COAST...
A HIGH PRESSURE RIDGE OVER THE NORTHERN BERING SEA TO THE WESTERN
ARCTIC COAST WILL EXTEND EAST AND BE LOCATED FROM MACKENZIE BAY
TO GAMBELL BY SUN MORNING. LOW PRESSURE IN THE FAR WESTERN CHUKCHI
SEA WILL MOVE EAST WITH AN ASSOCIATED WEATHER FRONT PASSING OVER
WRANGEL ISLAND ON SUN.
.SYNOPSIS FOR ARCTIC COAST...
A HIGH PRESSURE RIDGE OVER THE NORTHERN BERING SEA TO THE WESTERN
ARCTIC COAST WILL EXTEND EAST AND BE LOCATED FROM MACKENZIE BAY
TO GAMBELL BY SUN MORNING. LOW PRESSURE IN THE FAR WESTERN CHUKCHI
SEA WILL MOVE EAST WITH AN ASSOCIATED WEATHER FRONT PASSING OVER
WRANGEL ISLAND ON SUN.

5-DAY SEA ICE ANALYSIS MAP (http://pafc.arh.noaa.gov/ice.php)




LOOKS LIKE ANOTHER WEEK DELAY - SORRY - TIME TO GO GOLD PANNING... AND FISHING...