BABUSHKA REPORTS FROM MANGO THAT THEY DROPPED CHARLES HEDRICH AND HIS SON AT WALES ALASKA. (AFTER TRANSPORTING THE ROWBOAT ON MANGO? BIG PROBLEM? NOT TO WALES BUT IT WOULD BE IF TAKEN NORTH OF THE ARCTIC CIRCLE - WALES IS SOUTH OF THE ARCTIC CIRCLE.)
HOW CAN HE BE REPORTING ON HIS BLOG SITE THAT HE IS IN NOME - DOES HE MEAN WALES? I DON'T THINK HE IS THAT JET LAGGED?
SOUNDS LIKE A GHOST WRITER? HIS WIFE? BUT THE FACT REMAINS -

DID MANGO TRANSPORT THE ROWBOAT FROM NOME TO WALES?

IF SO IT APPEARS OK TO BE USED FOR A NORTHWEST PASSAGE ATTEMPT.

CARRIAGE DURING A NORTHWEST PASSAGE IS NOT ALLOWED.
A DEEPER ISSUE HAS SURFACED. POTENTIAL VIOLATION OF U.S. LAW.
PUBLIC WITNESSES SEEN MANGO DEPART NOME CARRYING BOTH THE ROWBOAT AND BABUSHKA. THIS COULD BE AN ILLEGAL ACT - A FOREIGN FLAG VESSEL CANNOT TRANSPORT CARGO BETWEEN USA POINTS. THE VESSELS WERE LOADED NEAR FALSE PASS ALASKA THEN OFFLOADED IN NOME ALASKA AND RELOADED IN NOME ALASKA AND NOW APPEARS TO HAVE BEEN OFFLOADED AGAIN NEAR WALES ALASKA. DOUBLE TROUBLE.
IS THE U.S. COAST GUARD MONITORING THIS FOREIGN FLAG ACTIVITY?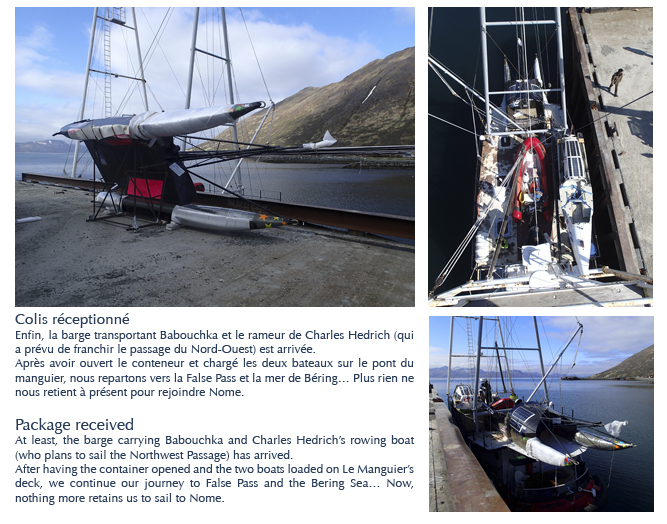 WITHOUT A PICTURE OF HIMSELF, HIS ROWBOAT AND A GPS DISPLAY AT THE ARCTIC CIRCLE

(Latitude

66.5622

°

N) I'M AFRAID HIS NORTHWEST PASSAGE ATTEMPT IS VOID
- YOU MUST START AT THE ARCTIC CIRCLE AND FINISH AT THE ARCTIC CIRCLE IN THE PACIFIC OCEAN AND ATLANTIC OCEAN DEPENDING ON YOUR DIRECTION OF TRAVEL.
WE ARE WAITING FOR THAT ALL IMPORTANT STARTING PICTURE. SHOW US!
AND REMEMBER - VESSEL CARRIAGE ONCE A NW PASSAGE IS STARTED IS NOT ALLOWED AGAIN UNTIL AFTER YOU CROSS THE OTHER ARCTIC CIRCLE.
http://charleshedrich-nordouest.blogspot.fr/2013/06/searout-point-meteo-240613.html
"Some new" fresh ", favorable weather window initially appears to announce the return of a favorable wind and side ice it melts slowly, but it melts." Michel Meulnet, weather router shipping.
Here is the latest weather analysis:
Bering Strait
Sunday 23/06
The wind NNE of the Bering Strait, with values ​​of the order of 17-22 knots. The trend will be reversed and the wind sector will gradually W SW from Tuesday 25/06, thus opening a favorable weather window for departure and the following days.
Wind NNE sector N-15 19noeuds
NW swell 0.8mètre
1007hPa pressure
Monday 24/06
Wind N 17-25noeuds, showers
N swell 1 meter
Pressure 1011hpa