FYI - TREKKING IN THE ARCTIC IS ONE THING... BUT TO SAY CROSSING THE "NORTHWEST PASSAGE" REQUIRES A SEA ROUTE NAVIGATION BETWEEN THE BERING SEA ARCTIC CIRCLE THROUGH THE ARCTIC ON YOUR OWN VESSEL'S BOTTOM TO THE OPPOSITE ARCTIC CIRCLE IN THE ATLANTIC'S DAVIS STRAIT. ANYTHING LESS IS A POINT-TO-POINT VOYAGE, SUCH AS BETWEEN HAMLETS TUKTOYAKTUK AND POND INLET.
YOU HAVE NOT CLIMBED MOUNT EVEREST BY REACHING BASE CAMP - WITHOUT SUMMITING YOU HAVE NOT CLIMBED MOUNT EVEREST. LIKEWISE, A NORTHWEST PASSAGE MEANS NAVIGATING A SEA ROUTE BETWEEN ATLANTIC AND PACIFIC ARCTIC CIRCLES. A DEFINED STARTING POINT TO THE DEFINED FINISH LINE BE IT EAST TO WEST OR WEST TO EAST.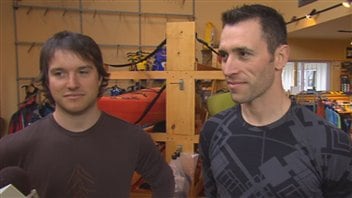 Olivier Giasson and Sebastien Lapierre attempt to cross at once the passage of Northwest sea kayak, a first.
Two firefighters from Quebec will try to cross the Northwest Passage in the Arctic sea kayaking in a single season.
An expedition ever undertaken to date.
The expedition "
Ice Dream 2013
"is to achieve a world first in the field of sports expeditions and sea kayaking in fact we try to make the first crossing of the Northwest Passage in a single season by sea kayak . Several years ago, the melting of Arctic sea ice releases the Northwest Passage for a period allowing us to paddle the distance in a single season.
Because of global warming, Sebastien Lapierre and Olivier Giasson believe they can cross this year 4500 km of icebound several months a year pass.
They will leave on July 15 and plan to get there in three months.
"It is a matter of
timing
.
We must follow the thaw ice.
Then we'll see if our estimate is good, "said Sebastien Lapierre.
The Northwest Passage is a coveted passage could be fréquentable by ships in the next few years because of global warming.
Kayakers have already crossed several seasons, stopping the return of ice and returning the following year.
Continuously, so it would be a first.
The two men are organizing this challenge requires great preparation for two years.
"We can not rely on what others have done before.
It is a little precursor there.
To look for, you must be sure to think of everything.
And it takes us contacts there, "says Sebastien Lapierre.
The two adventurers set five stops to refuel.
The expedition will take place in tandem kayak.
The two kayakers train mainly in the river, opposite Quebec.
In early spring and late fall, we find similar conditions that they encounter in the Arctic.
"The tides, cold water conditions, the outdoor temperature is very similar.
Even here, the tides will be a little stronger, "said Olivier Giasson.
Both men must also prepare to meet widely varying climatic conditions.
"We'll have everything.
At first, we can have very good days of 20-25 degrees, then towards the end it will easily go down to -10, maybe -15.
To play in the water, it is not ideal, but we are used to the cold, "says Sebastien Lapierre.
The two men are not in their first shipment.
In 2010, they spent a month skiing Groeland.
They took the opportunity to raise funds for the Quebec Firefighters Foundation for burn victims.
Their goal is to collect about five dollars per kilometer, so about $ 17,500.
http://www.radio-canada.ca/regions/quebec/2013/04/19/004-kayakistes-passage-du-nord-ouest-arctique.shtml
NOT A CROSSING OF THE NORTHWEST PASSAGE
http://spiq.ca/v2/evenements/2013_04_18_RevedeGlace/index.html
April 18, 2013, was held a press conference at the premises of Boréal Design to present the "Challenge ice dream," consisting of
crossing the Northwest Passage sea kayakin
g
Firefighters Sebastien Lapierre and Olivier Giasson associated with the Quebec Firefighters Foundation for Major burned, try to meet this enormous challenge. The expedition "Ice Dream 2013" is to achieve a world first in the field of sports expeditions and sea kayaking
From Tuktoyaktuk, the 3500 km journey will end in Igloolik
, all in less than 80 days (July-October).
Since the two adventurers sail with one double kayak, steps are planned replenishment.
Contacts have been established with various Inuit communities in the Arctic as well as the Canadian Coast Guard.
The presence of the icebreaker Amundsen in the area during the summer will be of great help in case of a major glitch.
Based on the experience gained in the Greenland expedition 2010, two firefighters are confident of the success of this world first. The before, during and after the expedition can be followed via the website:
www.revedeglace.ca