First and foremost - What is a Northwest Passage?
To complete a Northwest Passage your vessel must cross both the Atlantic Arctic Circle and the Pacific Arctic Circles on its own bottom - it cannot be transported by other means such as on another ship's deck as deck cargo piggy-back between the Arctic Circles.

Traveling between hamlets in the Arctic is considered a point-to-point transit, i.e. Tuktoyaktuk to Pond Inlet or Nome to Pond Inlet. Neither described point-to-point transit is a Northwest Passage but rather an Arctic point-to-point transit between specified hamlets.
Previously announced, TheLastFirst is planning a four man rowboat point-to-point transit between Tuktoyaktuk and Pond Inlet. See http://www.mainstreamlastfirst.com for details.
Another rowboat team at
http://www.charleshedrich.com/
and http://www.pierremariebazin.fr/
have announced joining forces together to challenge the Arctic in 2013 with a point-to-point transit between Nome and Pond Inlet. (I'd urge them to revise their plans and continue on past Pond Inlet - even if it required another season - going south to Davis Strait is where the Atlantic Arctic Circle is - that would make it an official Northwest Passage.)
By Pierre Marie BAZIN /

28 février 2013
Passage du Nord Ouest à la rame, interview de CelaTV
Video url: http://youtu.be/9bz69pVQp68
From Nome Alaska, Bering Strait, northern Alaska, northern Canada, Arrival in Baffin Bay Greenland.
(I think there is a bit of confusion where Pond Inlet on Baffin Island and Greenland are located... they will figure it out in short order...lol)
Video url: http://youtu.be/0HWg3LHFG8s


The departure is scheduled for June 15, 2013, 3-4 months at sea and 5000 km to go between the windows and the ice of the North. (If last year's ice is any indication they should expect plenty of book reading time just to reach 'turning-the-corner' at Point Barrow which was blocked for an unusual early period during the 2012 ice season.)

Charles Hedrich and Pierre-Marie will take turns rowing around the clock. They will progress against ice by physically towing their rowboat when necessary.

It is time to prepare. First step: find the new rower feat. It's done, it will be a prototype designed specifically for the far north and the ice by Mathieu Bonnier.

A great training in cold conditions will take place by the end of February in the White Sea between Finland, Russia and Estonia.
Good luck - we are watching with interest... and by the way... the Northwest Passage is a sea route from Pacific Arctic Circle to the Atlantic Arctic Circle.
So don't stop in Pond Inlet and expect a Northwest Passage without a bit more progress south into Davis Strait where the Atlantic Arctic Circle finish line is waiting.
Suggestion - outfit with a SPOT gps tracking beacon - see: http://www.findmespot.com for details. Friends and family will thank you.
While "Mirabaud", the 60-foot IMOCA Dominique Wavre, is about to reach its home port of La Rochelle Sunday all crowned with a seventh place in the Vendée Globe, one of the preparers of the boat is about to bid farewell to the Old Port. Mid-June, Pierre-Marie Bazin, 35, and his partner Charles Hedrich, 54, will leave La Rochelle, to reach Nome, Alaska. They will wait for a weather window to jump-in to row out to challenge the Arctic, starting from the edge of the Arctic Circle in the Bering Strait. Making a rowing journey from the west to the east, rowing through the Arctic is unprecedented in this direction and this part of the globe.


Their boat, dug on the banks of the Vilaine, Brittany, La Rochelle joined in mid-January. During April, it will be loaded on a cargo ship, to travel to the starting point of the expedition in Nome via Seattle. Designed by Sam Manuard (http://sam.manuard.free.fr/) on behalf of the browser Mathieu Bonnier - who failed in his attempt on the same passage - the boat aligns 6.80 m.
The weight is closely monitored


From experience, Pierre-Marie Bazin and Charles Hedrich know that weight is a key to success. Regularly, they will have to raise the boat on land or ice, to move from one lagoon to another. The 190 pounds of Kevlar carbon hull will be responsible for a raid of 2500 miles, nearly 5000 miles away. Distance that browsers provide cover for up to three months before the return of the fall and bad weather.

"But we must be careful not to exceed 550 pounds, including rowers," notes Pierre-Marie Bazin. After analyzing the expedition the previous owner of the boat, the La Rochelle came to this conclusion: "Mathieu Bonnier had imagined this crossing as reflecting a browser. It was a mistake. The boat weighed 800 pounds, he went amentities and alone, as if he sprang for a crossing of the Atlantic. Us, we are more in the context of combining our strengths of browsers and the fundamentals of a polar expedition. "

Weight, the weight always so. The week ahead will be dedicated to the testing of embedded, such as dry suits which they shall put rowers to test material in water. "Everything will be weighed up any sock," says Pierre-Marie Bazin. Time, for example, the duo had not resolved the dilemma of whether or not a board maker. In the balance-benefits drawbacks: the time that rowers have spent each day to melt the ice, given that weighed in favor of boarding the instrument.

Marine foremost

The preparation comes down to a question by arbitration. Added to the tensile test of the boat, first on a slipway to the water and a beach covered with pebbles Rochelle. The men hoisted dry, fitted harness. Meanwhile, Pierre-Marie Bazin following physical preparation based running and squash. It is also to balance the budget. Strong contacts are established with ERDF, Hyundai and General Council of Charente-Maritime. Which suggests that in terms of the sport itself shipping account is good. "The money that we want to collect more will be spent on communication about the event, the transmissions during the event. "
Charles Hedrich and Pierre-Marie Bazin met in 2004, when it was preparing the boat on which Charles Hedrich had to jump on the Vendée Globe. Incredible episode that will be the owner and skipper to compete on the field before the court second decides to take off the beard first, but out of the race. Topping the list of Pierre-Marie Bazin: four years of racing and a Class40 Route rum in 2010. Charles Hedrich, he scored his counter a world tour by the two poles and crossing the Atlantic from north to south. He also climbed the roof of the world and reached the North Pole.


WEBSITE: http://www.pierremariebazin.fr/

THE CREW, THE BOAT, A TESTED DESIGN, SAFETY FIRST, AND WEATHER, WILL ALL BE CRITICAL ELEMENTS TO THE SUCCESS OF THE VOYAGE...
NOTE IN THE TICO EXPEDITION VIDEO BELOW THE OUTFITTING OF A BEACH-DOLLY SO THE BOAT CAN BE LANDED ASHORE AND KEPT SAFE FROM DRIFTING SEA ICE - HOW WELL THOUGHT OUT IS THAT? TICO NOW BECOMES AN EARLY WARNING ALARM FOR CURIOUS APPROACHING POLAR BEARS... ELSE RIG A PERIMETER OF MONOFILAMENT FISHING LINE AND SMALL BELLS.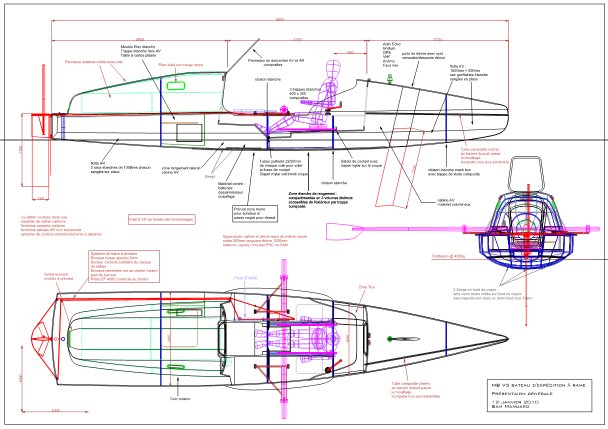 - - - snip - - -
Planning to use same 2010 rowboat to challenge the Arctic in 2013
Video url: http://youtu.be/GWpCXTfuzBs
http://www.naucat.com/en/news/travel/rowing-through-the-arctic-mathieu-bonnier/
2010 Rowing through the Arctic - Mathieu Bonnier
Mathieu Bonnier Tico and his dog embark on a new challenge
Mathieu Bonnier had promised not to launch such a challenge at the end, in 2009, a trip to the train alone 43 days under the Bouvet Rames Guyane. The call of the sea and the adventure was the strongest and the veterinary restarts in July 2010 for a new challenge: crossing the Northwest Passage to the train. A world first.
"I'll sell my boat. I did not really want me to start this kind of individual challenge. I want to move on. "This is what was said in April 2009 Mathieu Bonnier, veterinarian upon arrival Cayenne (Guyana) after forty-three days of a trip to the rowing solo across the Atlantic Ocean. Two years of preparation were needed and it allowed him to clinch second place in front of a dozen other competitors who have traveled some 4700 km between Saint-Louis, Senegal and Cayenne. This promise, Mathieu Bonnier will not have held long! The call of adventure has finally been stronger than anything. In 2010, he embarked on a new challenge: the Far North.
Always see below
"I'm a fairly nasty. I always try to go further, "he says again. We want to believe. It is a new big challenge that attack. Qaanaaq Greenland to Nome, Alaska, through the passage of the Northwest rowing alone is indeed a world first. At his side, his dog Tico, a alaskan malamute, who hauls him in this fabulous adventure. The race will start in July for a planned return ... September 2011. More than 6000 miles to go where he will face the ice, even if a part of this trip is'' unfortunately'' made possible by global warming. For this challenge has another for Mathieu Bonnier: succeeding in its goal, he wants to attract attention to this part of the world who will be among the first to be affected by the effects of global warming and to be exploited for its fossil deposits.
Tico, the faithful companion of Mathieu
Tico the dog Mathieu Bonnier, will be his only companion during the challenge. The Alaskan husky, already at his side when crossing Alaska in 2006, is perfectly accustomed to the climate of the North. This is the species that does it!
Tico is an Alaskan husky Mathieu Bonnier brought to Anchorage in 2003.About the Alaskan husky, can not really talk about race, but rather species or even type.
Indeed, formally recognized the Alaskan malamute and siberian husky. The Alaskan husky is not for his part clearly defined in terms of its ancestors. Thus we find, according to parents, different types of Alaskan husky.These differences are both morphological level as its look, with colors varying dress.
Among these dogs, they are more physical abilities that characterize it. Alaskan husky and not missing! Dog coupling of high efficiency, it can also, according to its origins, excelled in the sprint where bursts of speed that is able to achieve are impressive.
Side character, the mind is a very dog outgoing. This makes him, Alaska, dog appreciated for his talents companion when respects her true nature.
This is obviously a sturdy dog, strong and rustic that we are dealing. Are reported only for certain subjects a predisposition to genetic diseases found in purebred dogs of Nordic type as APR (progressive retinal atrophy) or hypothyroidism. In general, the Alaskan husky enjoys a good life up to 15 years on average.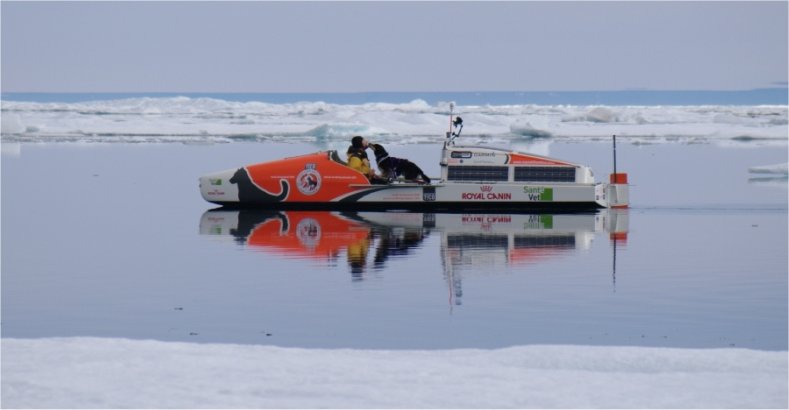 Sam Manuard is the architect of the boat in which Mathieu Bonnier will spend several months with her dog Tico.
He admits that his specialty, initially, is more boats racing, sailboats. This project is a first for him as well, "a very special project! ". We started with a blank page, "he recalls. "We had to think about the best boat. All this is done with a relatively open state of mind. "To find the" best solution ", three projects were'' isolated'': a catamaran, a trimaran and monohull. "Given the timing constraints and in particular budget is finally self-righting monohull which was selected for a security issue," says Sam Manuard. The architect has worked on a hull (hull form) that maximize the drag, that is to say the brake to slow the train, advancement. "The important thing was to make a stable boat so it does not suffer too much roll movements. The effectiveness of the train is quite precarious on this kind of boat. "
This is all the thinking that there was around the project that attracted Sam Manuard. "We ultimately designed a coherent boat which I hope will allow Mathieu meet his challenge under the best possible conditions. "
The first crossing of the Northwest Passage to the train alone!
A journey marked with icebergs and drift ice blocks, an area poorly mapped, the Northwest Passage linking the Atlantic to the Pacific, north of Canada and Alaska, it is 6500 kilometers in an environment more hostile ... This is what awaits Mathieu Bonnier, who decided to take up the challenge.
The Northwest Passage
Since 1903, when the Norwegian explorer Roald Amundsen crossed the first Canadian Arctic from east to west, less than thirty complete passes were listed in sailing and one sailing boat without help an engine.
This is a first for Mathieu Bonnier ... crazy that only a determined and enterprising man project as it is could be considered.
Departure from Qaanaaq (Greenland) was 2010.
Wintering the boat in an Inuit village.
Arrival at Nome (Alaska) was 2011.

The row into Resolute was also blocked by ice, so when he did eventually arrive, Mathieu elected to stay there and rest for a week, hoping that the time off would not only allow him to rest, but also give the waterway an opportunity to open up further. This past Sunday he returned to the water once again, and is continuing to row west, but has been asked by the Canadian Coast Guard to check in with them on a daily basis for his own safety. The water ahead is still thick with ice, but is still believed to be passable, although the Northwest Passage doesn't generally open fully until early September.



When I first wrote about this voyage back in March of this year, the plan was for Bonnier to row as far as he could this year, then return in 2011 to finish the job. He is making remarkable time through the frozen Arctic waters, so I'm not sure if that is still the plan or if he now thinks that he can complete the entire expedition this year. My guess is that it will be very slow going from here on out, and that he may not make it through the limited weather window for crossing the Passage, but who knows. The weather has been weird the world over this year, so perhaps the water will remain open longer than we expect.


Resolute Bay

Either way, this is an amazing row. Even in the dead of summer, it is cold, windy, and uncomfortable in the Arctic, and because of that Mathieu has had little sleep or rest thus far. He may need to take the winter off just to get some shut eye.